Home
Subscribe to RSS feeds
---
RSS (Really Simple Syndication) feeds allow you to always stay up to date and to never miss any news. Information about RSS technology can be found for example on Wikipedia. In PUMA, you can use RSS feeds to subscribe to your own/other publication lists including the publication lists of your groups. You will be informed about all news/updates immediatly.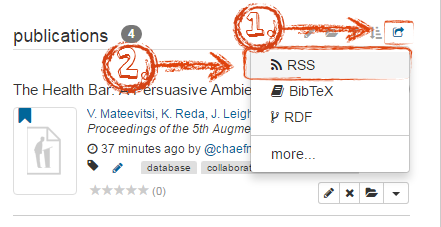 Click on the black arrow symbol (export options) on the very right in the "publications/bookmarks" column you want to subscribe to. A menu appears.

Now click on "RSS". The RSS feed will be generated and forwarded to your RSS reader (often, this will be your webbrowser).

Advice: The next steps are just an example, they depend both on your browser and your RSS reader. In this case, we show you how to use "Mozilla Firefox" as browser and as RSS reader.

After you have clicked on "RSS", Mozilla Firefox shows you some options. Choose "dynamic bookmarks" and click on "subscribe now". A pop up window appears.

Choose a name for your RSS feed. PUMA always generates a name automatically, in this case, there are publications (publications for ...) by a specific user (/user/...).

Then choose a folder to store the feed.

Click on "Subscribe" to save the new RSS feed.

The following screenshot shows the subscribed RSS feed as an example. Compare the left (orange marked) side, this is the RSS feed reader view with the view on the right, this is the latest version in PUMA.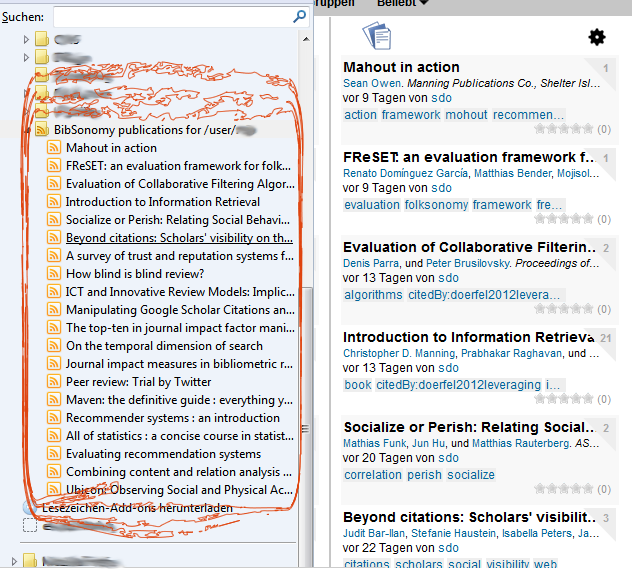 ---
Click here to go back to beginner's area and learn more about the basic functions.