Home
Friends
---
In PUMA, you can add other users to your friends list to facilitate interaction with them. On this page, you can learn how to add friends to your contact list and how to send them publications or bookmarks.
---
Add friends and colleagues
PUMA offers you two different ways to add friends and colleagues to your contact list.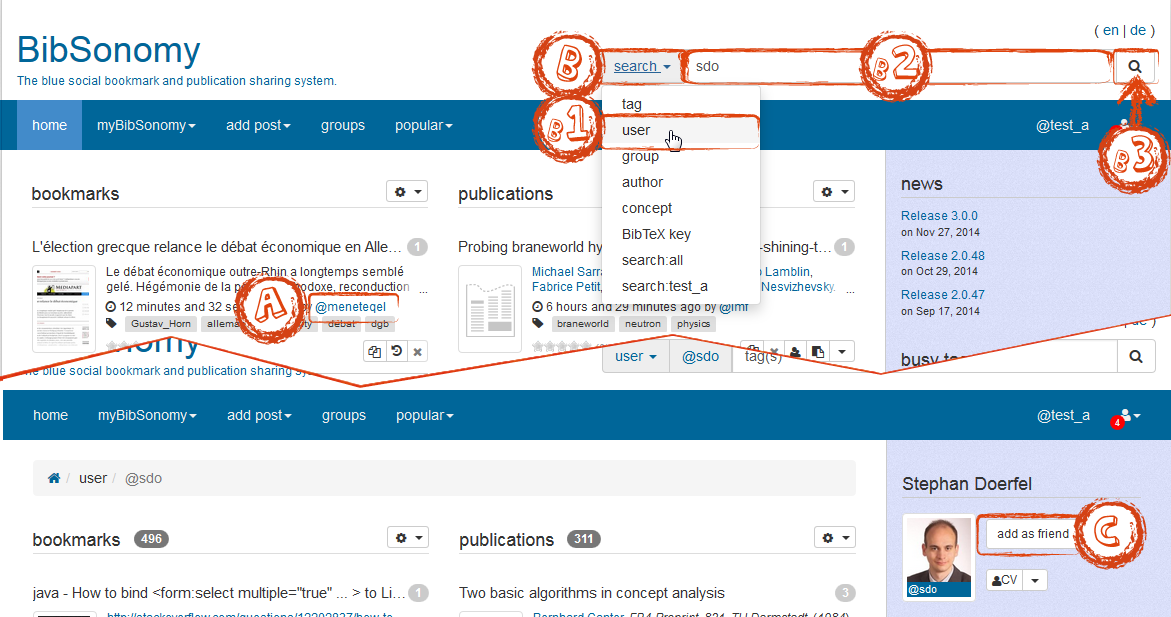 A: Click on a username (they always begin with an "@"). A username is for example displayed with an article that a user has posted (go to C - see below).

B: You know the username. In this case you can directly go to the user's profile by using the search function.

Click on "search" and select "user".
Enter the username into the searchbox.
Press Enter or click on the magnifying glass icon (go to C - see below).

C: In the right blue column of the user's profile, click on "add as friend".
---
Send bookmarks/publications
You can easily send bookmarks and publications to your friends by just adding the system tag send:<username> (e.g.: send:hotho) to the bookmark/publication you want to send.
The easiest way to do this is to go to your userpage (just click on your username in the right main menu). Then, on the bookmark/publication you want to send, click on the small blue pencil icon to edit the tags.

Here you can add the tag send:<username> (replace <username> by the username of your friend) and then click on save.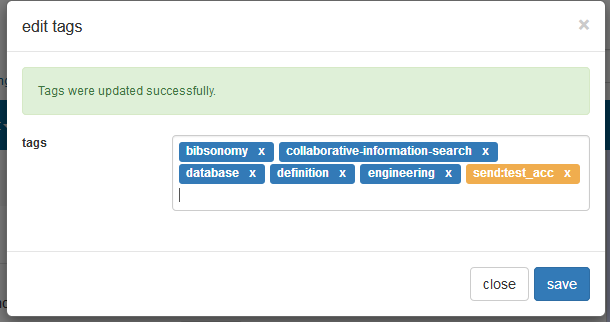 The bookmark/publication is now being sent to your friend. Also, a new icon will appear next to the small blue pencil, a small blue star icon. When you click on this icon, you can see the hidden system tags (e.g. sent:<username>).

You can find bookmarks/publications that were sent to you by your friends in your inbox. To get to your inbox, click on the person icon in the right main menu and then on inbox. You can now see the items that were sent to you, tagged with from:<username>.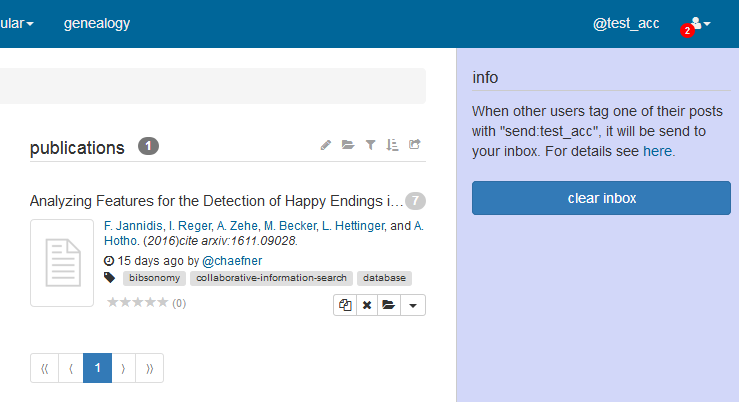 ---
Click here to go back to beginner's area and learn more about the basic functions.